Innovative and Revolutionary HUWE Wrenches
HUWE is designed to handle high pressure wrench services across the oil and gas fields with impeccable performance and a reliability like none other in the market. Besides strength, these robust tools offer versatile functions to employ around a range of tasks for union joints. If you are looking for a tool that is safe, easy to use and a more effective replacement for the traditional sledgehammer the Hammer union wrenches are a fantastic option.
HUWE Wrenches, 100% manufactured in USA, replacement for the traditional sledgehammer the Hammer union wrenches. made to efficiently tighten or loosen unions across energy industries. Offers an economical and high-performing option to fasten and disassemble hammer unions.
Application
Manufactured by oil field engineers, the HUWE wrench responds to a range of demands around the oil and gas field. In practice, they are introduced to systems instead of hammer unions. They can be used at;
Temporary high-pressure service (Max, 15,000 psi)
Flare, flow, and injection lines
Hydraulic fracturing functions
Drilling machinery and under balancing
Cementing oil wells
Pressure-pumping services
Apart from oil and gas sectors also in the high-pressure systems for 
mining industry HUWE
 wrenches have proved beneficial during maintenance and shut down service.
How it Works
As a common tool in the oil industry, our innovative union wrenches are used for fastening two joints, held together securely with a threaded nut. These categories of coupling connections are used across the oil field pipes, machinery, wells, etc. The traditional hammer union wrenches use sledge hammers for tightening the seals. The innovative HUWE wrenches, however, offer a safer and more precise solution to the oil field operators. Instead of hammer force, these wrenches provide an all in one solution with much faster operation and requiring other tools such as traditional hammer unions, pressure sensors and pressure gauges. If the operator forgets to check the direction, the tool offers advanced safety features to slip off the union nut, in case of being swung the wrong way. This mechanism is to ensure there is no damage implied on the nut or threads.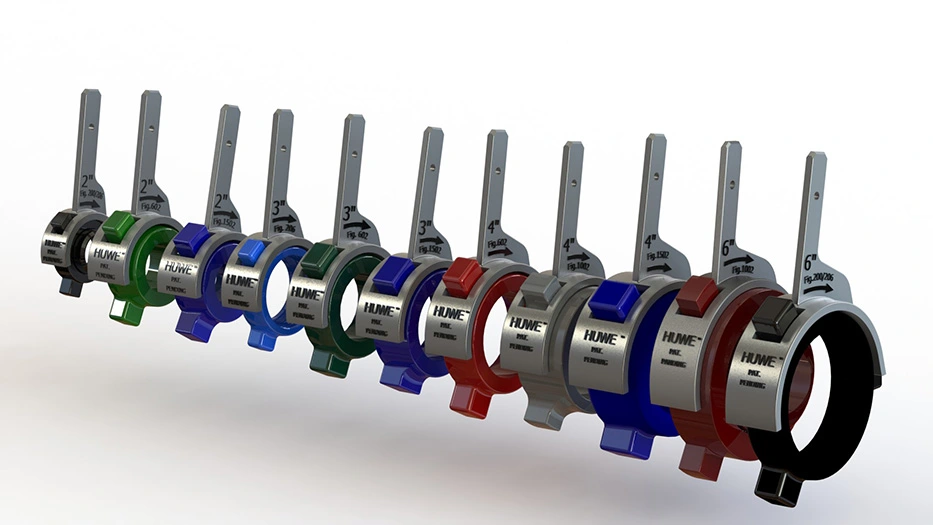 Structure
The tool is arranged from the following compartments;
● HUWE HEAD
The core innovation of the designs, made from resilient steel, the head is available in several sizes between 2 to 6 inches. It is arranged with a curved attachment part for easy fitting over the nut and with no welded compartments.
● HUWE HANDLE
HUWE handles are extremely convenient for the operator. The HUWE removable handles are made for an increased task versatility, and withstanding the toughest tasks around the industry.
● HUWE PIN
A sturdy, though small, pin keeps the handle attached to the head. The design is further secured with a safety chain as a tool drop tether.
Technical Features
Using a HUWE wrench increases the workflow by cutting down the time required for hammering and changing tools. It also offers precision while providing outstanding leverage over the area, providing a great toque without applying much pressure. It works for both tightening and loosening of the seals and joints in the unions. Our HUWE tool guarantees outstanding resistance to wear, cracking, and splitting.
You can purchase these new generation wrenches with different handles with a variety of length to permit controlled torque and unfatigued application.
The structure of this wrench is designed for straightforward use and ruggedness to withstand the harshest work environments. It is manufactured with two main parts, including the head and its handle, that are secured with a locking pin to keep the tool in its place, and a safety chain. There are markings on the tool to showcase the direction of rotation.
This tool is designed for manual use only. The handle lengths is designed as such that it will allow an average-sized operator to apply hundreds of foot-pounds of torque, more than needed to seat a hammer union. This nature of the wrench operation means that any operator can distinctly feel the hammer union's face being seated and the O-ring being compressed.
Safety Features
When it comes to safety, these wrenches offer exceptional safety in construction, which has been put to test before being released in the market. Besides cutting off the need for heavy hammering safety,the tool's handle provides a buffer zone between the operator's hands and the union, in order to reduce hand injuries and enhance the control over the operation. Each piece is purchased with a safety and performance test certificate, according to North American standards.
In addition to North America, the design complies with the standards of several countries across the globe.
You may also check: Red Iron Sling , Petol Hammertight Wrench Retainer
Specifications
Place an Order
In a nutshell "Don't hammer it", the HUWE is incredibly an easy tool to assemble and use. If you cannot find the required union diameters for your industrial demands, or would like to require further information on the recommend head and handle sizes on the HUWE Wrenches we can customize the exact tool according to your specifications.

Contact us to place an order or get a quotation on bulk purchases.