Give your IBC and Palletised Cargo a "lift" using cranes
RAAH Safety IBC pallet lifter is specially designed to lift IBC and Palletised Cargo using cranes. At RAAH we ensure the first thing as our priority is safety. For which we make sure that the products are very well tested and must include safety hooks and connectors. This is a quick, easy, and simple-to-use design.
Using this IBC pallet lifting is safe to transport IBC containers by a crane as compared to using a fork pallet lifter. Suited for the premium spaces and can be manufactured as per the specific requirements.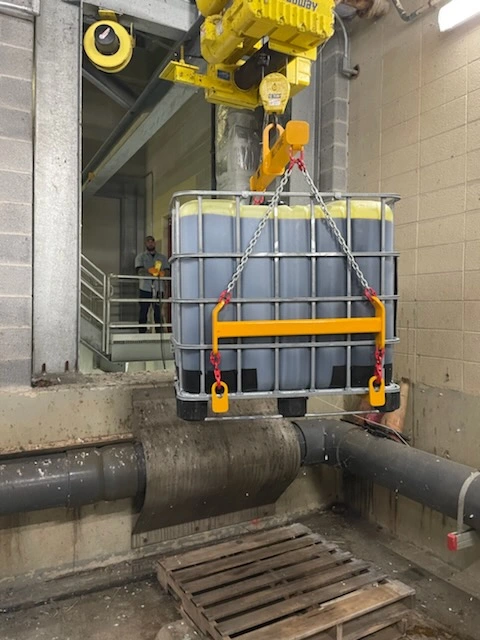 IBC Lifting & Pallet Lifter | RAAH Safety
The RAAH Safety IBC and Pallet Lifter model # IBC012
IBC Lifting and Pallet Lifter has been designed to safely lift a complete IBC container or lifting pallets with crane. More secure method compared to fork pallet lifter. These are specially designed to reduce the dangerous lifts of IBC containers onshore and offshore. IBC lifting frame is made with the best materials and highest possible standards.
Very well tested using real-life situations both onshore and offshore.
Benefits:
1. Easy to store
2. Easy to assemble and disassemble
3. Compact Design
4. Training packages are given to improve output
Includes :
1. Spreader Beam
2. Chain and Fittings
3. Connector
4. Safety hooks
5. Weight – 100kgss
6. WLL – 2 Tons
Key Features:
1. Helps for secure transport and control of IBC containers
2. Its Modular configuration makes it simple to transport between sites
3. This Customized design helps for the replacement of various parts
4. It comes with a compact design which makes it easy to store.
5. 3-coat marine paint specification as standard
6. Comes with Safety use instructions.
Pallet lifter and crane:
Out of the multiple lifting devices crane pallet lifter, are the most versatile. These pallet lifter cranes are below-the-hook lifting devices for transferring materials from one to another of various kinds and sizes also used for loading, unloading. These pallet lifters for cranes are best when it comes to increasing the efficiency of overhead material handling systems. Best for those areas that have small warehouses or are difficult with forklift trucks.
With the help of customized design and engineering of the different creative processes. The products we supply are unique and the best material handling solution and beneficial for your workplace. Our sales team is ready to assist you. If in terms of any query please do reach us.
RAAH Safety always takes care of their customer's safety. That's what we offer a wide variety of material handling products and services. At the workplace, employers must take care of their employee's safety. And for that, we can assure you our products are very well tested and equipped.
Safety First
IBC Lifting Equipment is developed with keeping safety in mind. RAAH Safety supplies the equipment with complete operator safety. It comes with a robust frame and wing lifting device which is estimated at four times the working load, this helps in reducing the danger compared with chain breakages.
Control System
Its control system is quick, easy, and simple to use. This makes it user-friendly as it comes with simple push buttons to control the raising and lowering operations. Also comes with an inverter for high lift or slow speed docking operations to provide a variable speed drive. Which helps for quick lifting operations and helps to controlled speed easily.